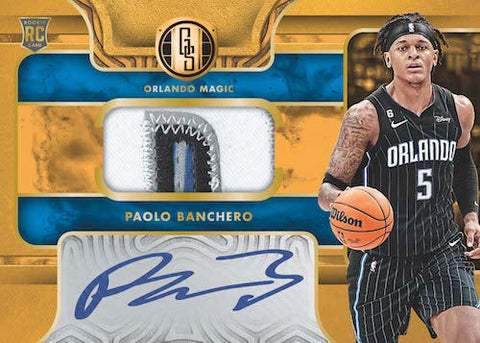 2022-23 Panini Chronicles Basketball Half Case #7 Pick Your Team
Atlanta Hawks
Boston Celtics
Brooklyn Nets
Charlotte Hornets
Chicago Bulls
Cleveland Cavaliers
Dallas Mavericks
Memphis Grizzlies
Milwaukee Bucks
Minnesota Timberwolves
New Orleans Pelicans
New York Knicks
Philadelphia 76ers
Portland Trail Blazers
Sacramento Kings
San Antonio Spurs
$39.00 USD
Basketball Group Breaks
Basketball card group breaks at The Iron Lion give collectors like you a chance to collect highly coveted cards from brands like Panini without paying for an entire box. From serious hobbyists who try and collect every card in a set to beginners just looking for their favorite players, all kinds of basketball fans choose to purchase a spot in a break rather than buy a basketball hobby box or case outright. This is because breaks are a very cost-effective way to have a shot at getting rookie cards, autographs, relics, and other valuable cards they're after. Check out the basketball cases and mixers we'll be breaking soon, and buy your spot today!
How do basketball card group breaks work at The Iron Lion?
Different groups often do basketball card breaks a little differently. So, to eliminate any confusion and help you decide what kind of break you might want to buy into, here's how we do things:
At The Iron Lion, we have a few different styles of card breaks – Pick Your Team (PYT), Random Team, and Random Hit.
PYT: Pick a team and you'll receive all the cards from that specific team. Teams are priced differently depending on the checklist and certain players on that team.
Random Team: Like PYT, but everyone pays the same price to claim their spot and is assigned a random team.
Random Hit: We randomize the list of cards from the product and the list of people who bought in, randomly assigning cards to everyone at the end of a break.
If you're participating from out of state, we'll ship all your cards to you. If you live in or around Colorado Springs, we invite you to come pick your cards up in person!
Claim your spot in our basketball card breaks today
Basketball card group breaks appeal to every collector. Whether you just want to affordably grow your collection or are hoping to land a super rare card, we hope you'll make The Iron Lion your go-to destination for football card breaks.